Enjoy this video of 2 year old baby Finn screaming with delighted terror as he races along on his little bike. If anything, I'd say he wanted to go faster. And like his dad says, you can bet he will love rollercoasters when he is older.

Finn isn't at all unusual in this. According to our research one of the best ways to make 3 to 5 month old babies laugh is to dangle them upside down. And we've all been a little scared to watch proud new dads throwing their giggling young babies high the air. So why do babies find delight in danger and revel in rough and tumble?

I don't actually know. Partly it is that they don't know to be afraid. But that same baby could be scared by a small insect or a rustling curtain in his or her bedroom. So that can't be the whole story. I suspect it comes down to adrenaline. Excitement and fear both cause your body to react in a similar way, releasing a lot of adrenaline and getting your heart racing. It prepares you to react. When the situation turns out not to be dangerous and there is nothing to react to then there is a sense of relief and excess energy has to be expended somehow.
In the spirit of science, I went on a a few roller coasters at Thorpe Park a few weekends ago. Here's what happened to my heart rate:
THE NEMESIS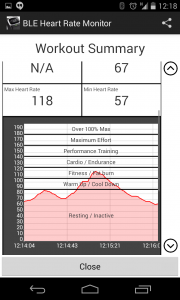 THE SAW
I don't mind admitting that at some points I was screaming like a little baby.
Thanks to Finn and his family for the video.