<![CDATA[[caption id="attachment_36836" align="alignright" width="228"]
Dr. James Sully[/caption] Laughing babies play an interesting role in the history of British Psychology. Over a hundred years ago they tickled the interest of Dr. James Sully, who worked just round the corner from Birkbeck Babylab at UCL, in Bloomsbury in London. In fact, Sully was founder of the UK's first experimental psychology lab at UCL and wrote several early popular books on psychology. These included Studies of Childhood  published in 1892 and An Essay on Laughter published in 1902.  Compiled from observations of his own children and reports sent in by the general public, laughing babies featured prominently in both books. I recently learned about a lot more about Sully and his work when I was visited by Dr. Tiffany Watt-Smith, who studies the history of emotions at Queen Mary University of London. She's written up an acount of our conversation. You can read it here.
Gleeful babies..
In … An Essay on Laughter, Sully expanded his discussion of the significance of laughter in the early years of life. In it, he wondered about the evolutionary purpose of contagious laughing in forging sympathetic bonds between parents and children. Sully also identified different baby laughs – from the 'sudden glee' in which 'the arms flag wing-like or meet in the joyous clap and the whole body jumps', to the 'forced laugh' some children develop in response to a situation they realize they are supposed to find funny.

Make gleeful scientists..

'It's like being a stand-up comic' says Dr Caspar Addyman, a psychologist investigating infant laughter at the BabyLab at Birkbeck University of London. Showing me around the basement laboratories, their walls painted grey to create a calm environment, Addyman admits he's 'full of glee to be doing this'. Here, Addyman and the parents who volunteer their babies to take part in his experiments, gurn, grin and play peekaboo. The giggles they elicit from their tiny experimental subjects are video recorded for later analysis. Addyman is only at the beginning of his research. He hopes to uncover the links between laughter and learning.
via
The Scientist and the Stand-Up | The History of Emotions Blog
.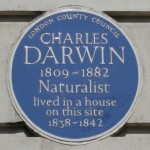 And in fact, Bloomsbury's association with the science of laughing babies goes even further back than that. From 1838 to 1842 ,
Charles Darwin lived at 12 Upper Gower Street.
And it was here that his first two children were born. Providing him with data for his own pioneering research on
infancy and emotions.
]]>