<![CDATA[Happy new year, everyone. Now that our baby laughter survey is over, I am going carefully through the results for a scientific write-up and for a potential book project. Appropriately for the start of a new year, I'm beginning by looking  at the very earliest laughs and what causes them. The answer seems to be tickling. Going through parent's responses, gentle tickling  already seems to elicit laughter by 1 or 2 months old.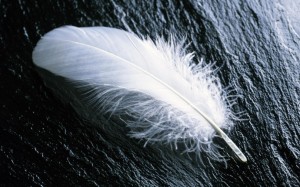 What caused your baby's first laugh?
It was after I changed and fed him I was talking to him and smiling at him I tickled the sides of his face telling him he was cheeky and very cute. Male, 2 months, UK I was doing  "chipmunks" on his stomach (basically just rapid tickles with fingertips) and working my way up to his cheeks and he just went ballistic. It was the cutest thing I have ever seen. Male, 3 months, USA I was in her face trying to make her laugh.  I was tickling on her chest/underarms using a high pitched voice, smiling in her face in an attempt to get her to laugh.  It was that throaty, "hnnnnngh" laugh that she did. Female, 2.5 months, USA Being tickled by a frilly shirt being put over her head. Female, 2 months, Canada I started tickling him. Now even when I just say "tickle tickle", he smiles/laughs. Male, 6 months, USA tickling his feet, or going "nom nom nom" and pretending to eat his belly Male, 5 months,  USA His first laugh was in his sleep at about two weeks old, his first awake laughs were for tickles Male, 1 month, UK His dad's tickly whiskers were tickling him when his dad was kissing him Male, 3 months, Australia

Most memorable laughs
My husband tickling our babies feet on his beard – Male, 2 months, UK Friend who thought he wasn't good with babies blowing raspberries in her face and tickling her belly got a lovely chuckle – he was over the moon! – Female, 4 months, UK Laughing while playing with her dad. He will hold her upside down, which causes her to start laughing. He'll then hold her on his lap and start tickling her around her ears and neck, or kissing her around her ears and neck, and she'll go into hysterics. – Female, 5 months, USA He has a particularly deep belly laugh when his tummy is kissed or tickled. – Male, 9 months, UK
Although, this is not always without risk..
His dad was tickling him while changing his diaper and he pooped on his dad -Male, 2 months, USA
The first joke

We've mentioned before Robert Provine's theory that a feigned tickle  of might have been the
 first joke that ancient human's ever made
.  And certainly the babies in our survey seem to love the anticipation almost as much as the tickle itself.
Hysterics when his daddy was pretending to tickle him & blowing raspberries on his tummy – Male, 4 months, UK Just today, at just over 5 months old really, I realised that I can make her laugh now with just eye contact. It all still revolves around tickling her or "threatening" to tickle her. Initially, she'd only laugh when tickled. Next, she'd laugh when I pretended to come close and tickle her, holding my hands above her belly or going her her with my face pretending to tickle her. Now, just the "roaring" sound I usually make with it or a mischievous look from me will set off a giggling fit. – Female, 5 months, UK She was about eight months old, and sitting on the bed with her dad. He was tickling her, and she would laugh so hard she would fall over. Then, after a few rounds of this, she started to laugh and fall over before his fingers reached her neck– the anticipation was enough. – Female, 15 months, USA
[flickr video=2550535140 show_info=true secret=9fcdc4d683 w=500 h=333]
Madeline gets tickled
 a video by 
CodyR
 on Flickr. Please share your
tickling stories
and
videos
Related articles
]]>