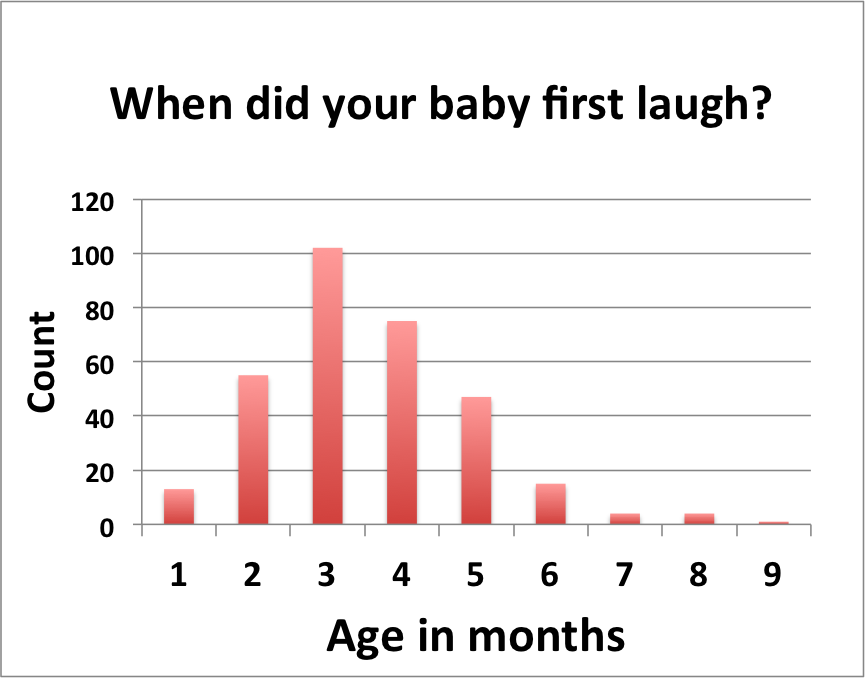 Results from our survey showed that some babies start laughing very early.  Parents have reported laughter in the first few months. However, many babies laugh a lot later. This makes many people skeptical that these very young babies really are laughing. I think that parents know their own babies far better than anyone else. If parents are reporting that their babies are laughing then I believe them.
Mind you, it is worth noting that there is no 'right age' for a baby to start laughing. Finding a wide range of ages for babies first doing things is quite common. Young babies have an awful lot on their plate and they all take their own individual route through development. Some walk 'early', some walk 'late' while the opposite could hold for talking.
Here's a video submission from Resica and her family showing her daughter laughing at 9 weeks old.
It's great to see a laughing baby page as I have been curious about my baby's smiles and laughs. Failing the old wives tale my little daughter (now 12 weeks) started smiling at 11 days, she would smile at times on request specially for taking pics and when she was 9weeks she was laughing hard with my husband. She is twelve now and we get lots of laughter sessions from her. Here is the video when she first laughed
Thanks to Resica, Niana & Niana's daddy for sharing the video.
If you have a laughing baby you'd like to share, please submit a video.